Tobias Menzies Is TV's Good Luck Charm
10 September, 2018 | Written by Sadie Gennis and Kaitlin Thomas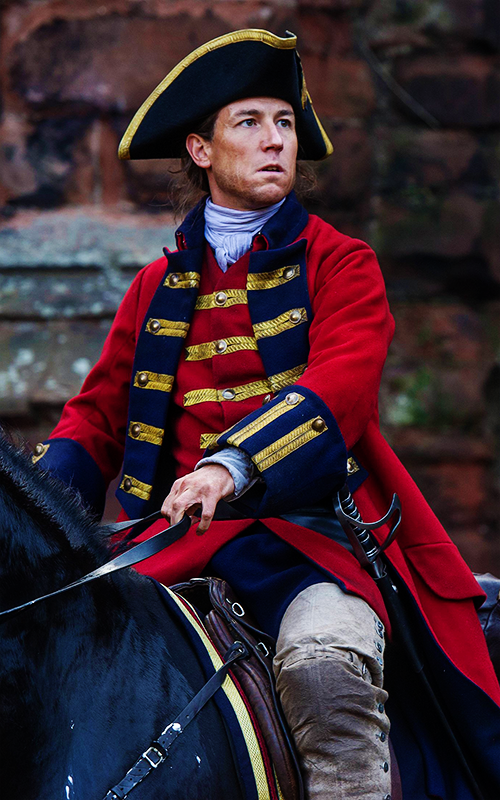 When we started digging into our ranking of the 100 Best Shows Right Now, some trends became apparent. Cable came out on top with roughly half the shows on the list, beating out broadcast and streaming. But Netflix racked up the most mentions of any individual service with a massive 20 shows. Michael Schur (The Good Place, Brooklyn Nine-Nine), Noah Hawley (Fargo, Legion), Phoebe Waller-Bridge (Fleabag, Killing Eve) and Kenya Barris (black-ish, grown-ish) all saw two of their shows make the cut, while Samira Wiley has starred in three (The Handmaid's Tale, Orange Is the New Black, Ryan Hansen Solves Crimes on Television).
But nobody came close to Tobias Menzies, who is clearly is the hardest-working man in Hollywood — or maybe just the actor with the best taste — because he has appeared in or is slated to appear in a whopping SEVEN of the 100 Best Shows! He may not have the A-list name recognition of some of his peers, but Menzies has been everywhere lately, or at least everywhere that counts; his IMDB page is more or less a roundup of all the shows you should be paying attention to.
And so far, Menzies hasn't played the same role twice. Every character he signs up for is completely different from the last. As Shirley Bassey would say, he has the range. Check out all the roles Menzies has played that are featured in our 100 Best Shows list, and prepare to wonder why this man doesn't have 5,000 Emmys by now.
Outlander: For three seasons, Menzies portrayed two different characters on Starz's time-travel drama, which makes this even more impressive. With his performance as Claire's first husband, Frank Randall, and Frank's sadistic ancestor, Black Jack Randall, Menzies revealed his ridiculous ability to make us fall in love with him and fear him at the same time.
The Terror: The first season of AMC's historical horror anthology series The Terror centered on a lost expedition to the Arctic in 1845. Menzies portrayed Captain James Fitzjames, a rising star in the British Royal Navy who gets in over his head after explorer ships HMS Erebus and HMS Terror get stuck and frozen.
Catastrophe: Although Menzies is probably best known for his dramatic work, he made a rather memorable appearance on the Amazon comedy Catastrophe as Dr. Harries, Sharon's OB-GYN who is obsessed with hand sanitizer. We can't say we blame him.
Game of Thrones: In the hit HBO fantasy series, Menzies played the sniveling Edmure Tully, the Lord of Riverrun, Catelyn Stark's brother and just an all-around f—-up (remember: Edmure is the one who couldn't even send his father's funeral boat off properly). But Menzies' biggest claim to fame in Game of Thrones mythology is playing the man who had the worst wedding ever. Edmure's reception was the site of the bloody massacre dubbed the Red Wedding.
Doctor Who: It seems like every actor or actress in the U.K. has appeared on Doctor Who, the long-running science-fiction adventure series, and Menzies is no exception. He played Lieutenant Stepashin, an executive officer of a Soviet submarine, in the 2013 episode "Cold War," who crossed paths with Matt Smith's Eleventh Doctor and tangled with an Ice Warrior.
Black Mirror: Menzies had a one-off appearance in the third and final episode of Black Mirror's second season. "The Waldo Moment" follows what happens when a blue cartoon bear named Waldo enters an election; Menzies plays the election's Conservative candidate and the object of Waldo's ire.
The Crown: Menzies hasn't appeared in The Crown yet, but his casting is a big deal. Going into its third season, the Emmy-winning drama is undergoing a complete cast overhaul as the show jumps forward in time to focus on the royals in middle age. That means Claire Foy and Matt Smith are out as Queen Elizabeth and Prince Philip, with Olivia Coleman taking over for the British monarch and Menzies taking on the role of Elizabeth's often insufferable husband. Based on Menzies' track record and this stellar first look of Menzies in costume, we feel fairly confident that this will be another star turn for the actor.