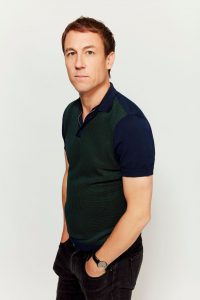 I've built many fansites over the years since going online in 2001. My first fansite was born in 2006, but very rarely am I compelled to write of my reasons for going to the trouble of purchasing the domain, then going to the extent of beginning the process of screencapping film and television projects, filling the pages within. However, I felt compelled (there's that word again) to write a tribute of sorts to the focus of this domain. That is Tobias Menzies.
I'm trying to remember the first time I ever saw Tobias, or saw his name. I thought it was on the ending credits of a third season episode of GAME OF THRONES as Edmure Tully, but then I realized it was way before that global phenomenon. It was in 2006 when I went to see the new James Bond film with Daniel Craig, CASINO ROYALE. I realized the young man M, played by the incomparable Dame Judi Dench, was chewing out about Bond's misdeeds was Tobias Menzies. I just didn't recall his face when I saw him as Edmure Tully in two significant scenes. The first was when Edmure tried to shoot the flaming arrow into the boat carrying the body of Hoster Tully, Edmure and Catelyn Stark's (Michelle Fairley) father. The next was when Edmure was being reprimanded by his Uncle Bryndan Tully (Clive Russell), also known as "The Blackfish" for not calling his nephew Robb Stark (Richard Madden) King Robb, and by Robb for losing him 200 men to take a mill. Edmure seemed to be a bit of a milquetoast under Robb and The Blackfish's dressing down. I thought Tobias' performance was about as good as one could be considering the limited needs of the character. Then the infamous Red Wedding where Edmure sat out the worst of it in Walder Frey's (David Bradley) dungeon.
I'd come to GAME OF THRONES predominately for Nikolaj Coster-Waldau, who played The Kingslayer Jaime Lannister. I found and fell in love with Richard Madden along the way. However, Tobias hadn't really wowed me. I didn't know whether it was the combination of his character of Villiers in CASINO ROYALE and Edmure that failed to grab me as much as Nikolaj and Richard's, so I failed to truly grab onto him.
Funny thing first or second impressions are.
I'd been hearing about this show called OUTLANDER during the run of GAME OF THRONES, but I had no interest in anything else at the time. I have fansites for both Richard Madden and Nikolaj Coster-Waldau, and at the time I was scanning articles to add to the press sections in the gallery and I would see promos, photos, articles and such for OUTLANDER. They depicted Caitriona Balfe and Sam Heughan as Claire Randall Fraser and Jamie Fraser and read some things on it. It talked of a time traveling woman who jumped from different time periods. I was unaware it was not a Dr. Who like show, though I later heard the impetus for it came from that show. In some of the photos I would see Tobias as mostly Frank Randall dressed in 1940s costume, but nothing of his alter ego Captain Jonathan Wolverton "Black Jack" Randall. So I was really unaware the character existed.
So where's this going?
I'll tell you.
About a month ago I saw a video on my Youtube homepage with Sam Heughan discussing Jamie's torture and rape at Black Jack's hands. It was odd I hadn't heard anything about it since the topic frequently came up on the many blogs who covered GAME OF THRONES, and particularly with regards to the rape Sansa Stark (Sophie Turner) endured at the hands of Ramsey Bolton (Iwan Rheon) and of how it was a disgrace to women in the show's constant depiction of the abuse of women. I thought the rape scene couldn't have been that bad if it escaped the same controversy GAME OF THRONES engendered practically every week after an episode aired. Jamie Fraser's rape slipped under the wire, but Sam discussed the filming and his feelings about it and I thought I'd check it out. So firing up my NETFLIX subscription I began watching. When it came to the final two episodes I found something surprising. That was Tobias Menzies was far more than I gave him credit for.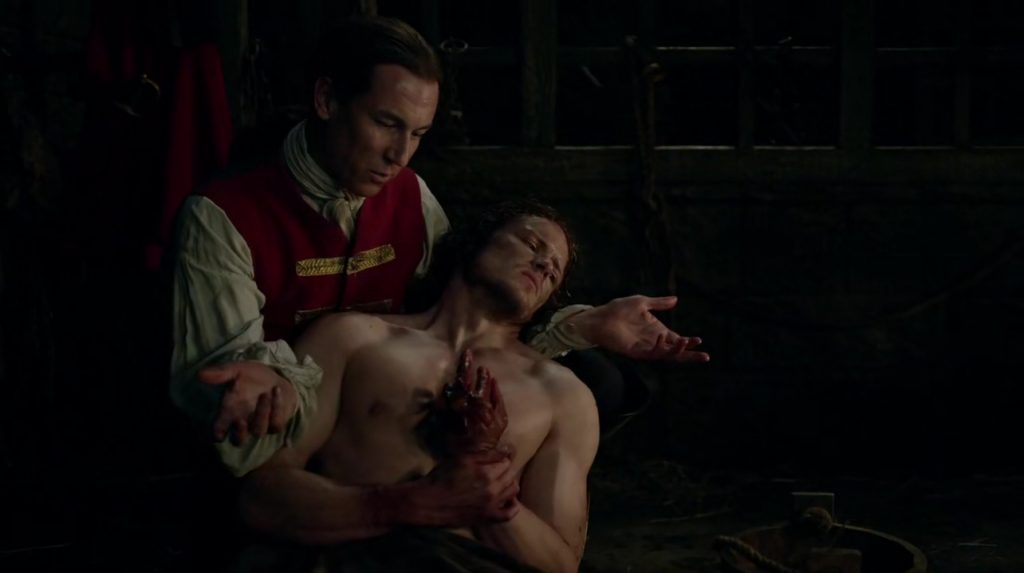 In the dual roles of Frank and Captain Jonathan "Black Jack" Randall, Tobias displayed a deft handling of his craft. How he made the two characters so different from one another. In Frank he gave us a scholar and gentleman. In Black Jack he gave us a scary as hell, pathological monster. With a sniff, movement of the mouth, his quick temper, and his obsession on Jamie made Jack terrifying at the thought someone like that actually exists. With Frank he is stoic, reserved, almost androgynous in his nature. With the exception of one moment where he takes on the extortionists who want to bilk him out of the reward for Claire's return, Tobias gave small hint as to Frank's ancestry.
In the small course of a month I began watching most of Tobias' work. I thought to build a website on Tobias' OUTLANDER co-star Sam Heughan as I was impressed by his performance as Jamie. However, on a websearch I found a couple of sites for him already. Including Sam Heughan Fan, and as a professional courtosey, decided not to do one. However, I was extremely dismayed there wasn't one for Tobias. So here it is. A fansite dedicated to the amazing work of Tobias Menzies, an underrated artist with a fearless quality that is finally making people stand up and take notice. I'm just sorry I was late to the party. Tobias deserves all the praise he is currently receving for his role as Prince Philip, Duke of Edinburgh in NETFLIX's THE CROWN. His Golden Globe nomination is a bit late. He should have received many nominations and wins by now for Black Jack Randall. I would also include Sam Heughan for those daring scenes in Wentworth Prison. Those scenes were gut wrenching to watch, but also mesmerizing. The trust both actors showed in each other and the utter talent on display during those grueling scenes was without a doubt some of the best acting I've seen in ages. It's disgusting both men were never recognized for their bravery.
In the character of Black Jack Randall, Tobias was the quintessential villain along the lines of such classic characters of Javert from Les Miserables and Chauvelin in The Scarlet Pimpernell. I doubt we'll ever get as complex a villain as Black Jack ever again. Most of the ones on television tend to be carbon copies of the others. Tobias went where no other has gone, even on GAME OF THRONES where the villains tend to be a bit campy like the aforementioned Ramsey Bolton and Walder Frey. I think Black Jack is more Marquis de Sade with a hint of Caligula without the insanity because in Black Jack, Tobias played him as strictly real. And within that he gave us perhaps what could be called a villain devoid of the trappings of humanity, but rather that heart of darkness of a Joseph Conrad nightmare. And that takes skill and talent. And that Tobias Menzies has in spades. I fear Diana Gabaldon didn't see the potential of Black Jack to continue to haunt Jamie Fraser's dreams. Every good story needs its antagonists for the protagonist to exist. I feel Sam Heughan was at his finest with Tobias as his acting partner. Just that notion Black Jack was out there waiting to see Jamie again made OUTLANDER different from the glut of similar programs. We knew Black Jack would always be there.
As I fill the pages of this site I'm thrilled to see what Tobias does with his career. He's damned talented and one of those rare talents with an unseen intellect along with that talent that makes him perhaps one of the most intriguing thespians currently on our screens. If Tobias does read this I want to say to him, you are an amazing man and to this I dedicate this fansite. Thank you for opening my eyes to your talent and to your soul.
Dianne/webmaster
TOBIAS MENZIES ONLINE
— 1 January, 2020