Tobias only got a credit for the final episode of THE TERROR. I thought I'd include the opening titles for this post to close out Tobias' work on the show. The inner historian in my was a bit sad not to see the actual event depicted more as a true telling like the A&E biopic Shackleton starring Sir Kenneth Branagh, but given the high production values and the cast I think I'll give it a pass on the inclusion of the Tuunbaq. This is what happens when good money is thrown at a production like that of Sir Ridley Scott's Scott Free and a good story is turned into good drama such as this show. Of course the casting of Jared Harris (Captain Frances Crozier), Ciaran Hinds (Sir John Franlin) and the other actors like the standout Adam Nagaitis who played Cornelius Hickey, Paul Ready (Henry Goodsir), and Nive Nielsen (Lady Silence). The whole production was incredible with the complete recreation of both the HMS Terror and the HMS Erebus. Just amazing. Unless something else comes up to add to the gallery section this is the end of this section on THE TERROR.
TOBIAS MENZIES IN TELEVISION > THE TERROR > SEASON ONE > HAD SCREENCAPS > 1X10 – WE ARE GONE
Alas poor Horatio, we knew him well. And now Tobias' time on THE TERROR comes to a close. Suffering from scurvy and lead poisoning, Captain James Fitzjames of the HMS Erebus looses his fight for life. Tobias killed this show. His performance was spot on and I loved it to pieces. Thank you Tobias for giving us such an amazing performance. So we lay James to rest….but not peacefully. In the next episode Cornelius Hickey (Adam Nagaitis) has him dug up and eaten with some fava beans and a nice Chianti. Yes, I just said that.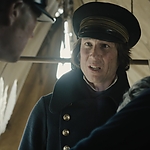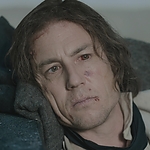 This episode was particularly hard to cap up. Most of the action takes place at night like the attack of the Tuunbaq, so my apologies for the quality not being good though we can still see Tobias. That's a plus.