Tobias Menzies Reflects on His Outlander Character's Shocking Death
25 September, 2017 | Written by Caroline Hallemann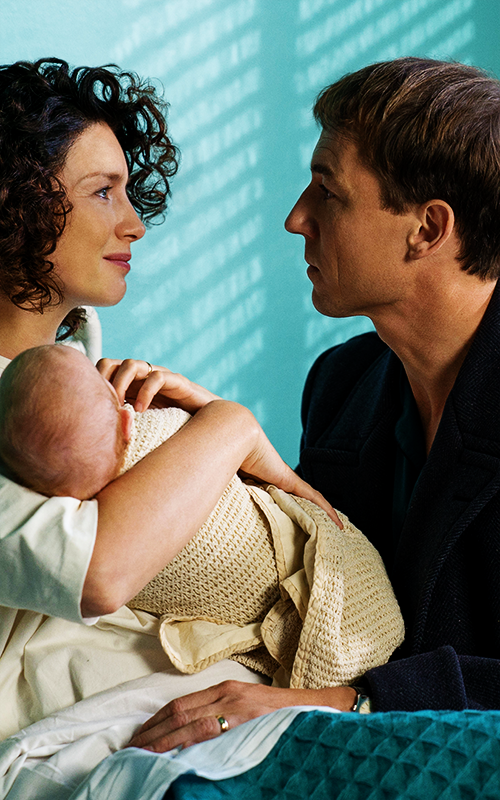 "It feels quite sudden, actually in the watching of it. We don't see the accident…But, I think that's probably also true to life. Death does come suddenly, and without warning."
Actor Tobias Menzies isn't one to shy away from a complicated character. Over the past two seasons of Outlander, he's masterfully portrayed not only the sadistic Black Jack Randall, but also his distant relative Frank Randall, the long-suffering husband Claire left behind when she journeyed through the stones to the 18th century.
But in season three of the popular time-traveling series, both of his characters meet their fate. Below, he talks with Townandcountrymag.com about his two shocking death scenes, interactions with the show's passionate fanbase, and whether there's a chance we'll see Frank again.
Diana Gabaldon, the author of the Outlander book series, once wrote that Frank "is the major tragic figure of the books." Do you agree?
I hadn't seen that. I think you could make a strong case for him being a major tragic figure within the story, yes. But when you're playing him, I think you have to approach it in a slightly different way, less from the kind of dramaturgical, structural position, and a little more from the inside.
I think we were all keen to flesh him out as much as possible. There's always that triangle between Claire, Jamie, and Frank, which we wanted to make rich and complicated, so those choices Claire has to make along the way are between two very different men but two very legitimate options.
The marriage that we find in the beginning of the story between Frank and Claire is a very different kind of love than obviously she finds with Jamie, but no less rich.
Going into season three, we know that Frank has died at some point in the 1960s timeline. Did that impact how you prepared for this season?
The honest answer is no, actually. I think you try and keep that out of it, so you're not playing a dying fool. You're not trying to get ahead of the story.
In the first three episodes, we cover a lot of years—almost 20 years, if I'm right in the timeline. There's a lot to depict, including what happens to that marriage over those years, what happens to him and Claire: the various letdowns, the hopes, and the disappointments. There's a lot to pack in before he dies.
You actually have two death scenes this season. The first comes in the first episode on the battlefield. At Comic Con, you said the showdown between Jamie and Black Jack on the battlefield "is surprising, actually. Maybe it's not entirely what people expect." Could you elaborate on that?
I think it's slightly unexpected because we see the fight between Jack and Jamie, in Jamie's fevered remembering of the fight. Jamie's lying, possibly dying, on the battlefield [The Battle of Culloden is largely undepicted in the book series]. He's come 'round and there's carnage everywhere. They've lost the battle, and the audience sees scraps of flashback. He remembers different bits of the battle, and that includes encountering Jack.
It's non-verbal, so we don't speak to each other. We see each other and then join in battle, and so there's something quite dreamlike about it.
It's quite a hard story to end. A lot happened between these two men, and so I think we tried to go for something that had lots of feeling in it. It's a strange dance of death—that's how I thought about it, staggering around through these bodies. It's part fight, part embrace.
Again, as with all the stuff involving those two characters, we were always looking for an unusual angle to come at it. I think that is sort of what that relationship is like. It puts you off balance, often because of Jack's response to things, and I hope this scene fits into that tradition.
And then in episode three, we see Frank die. What was it like to film those final scenes with that character?
It's been a great journey on the show. There's definitely some poignancy about finishing this job and these storylines. I feel like we had some good material to dig into—this falling apart of this marriage, and this sudden death by automobile accident.
It feels quite sudden, actually in the watching of it. We don't see the accident. We shot a scene of when he leaves that final fight, we shot something where he's walking out of the house, with a kind of tracking shot into his car, and him sort of sitting in the car momentarily. I imagined that would help the intrigue of what might have happened in the accident, but that didn't make it into the cut. It felt very kind of jumped. He walks out and the next thing he's on a slab. But, I think that's probably also true to life. Death does come suddenly, and without warning.
What was it like on set that day?
Lying on the slab, it's sort of weird. You try not to breathe, and so it's weirdly prosaic. I also don't think it was the last thing I shot. I think the last, last thing might have been a pick-up shot coming back several months later, after I'd wrapped, from the birth of Brianna.
Will we see Frank or Black Jack, for that matter, again on the show? Or will we see you on the show in another capacity.
There's no plans for it. I don't know—I guess in a show that involves time travel, you can never say never.
Outlander has a truly dedicated fan base. Tell me about your experience with the fans of the show.
I live in London and it's less of a phenomenon here, so in a way I'm slightly protected from it all. But I've only had positive experiences, really. Thus far, they're very supportive. They seem to appreciate what we're doing with a story they love very much.
It's a benefit for a show to have that kind of strength of support in its base, but in the making of it, it's something that you have to negotiate carefully because you do need to push that dynamic off when you're making choices about story and character.
We're locked away in Scotland, so we get that headspace.
Generally speaking, fans want Claire to be together with Jamie. Do you like that Frank's relationship with Claire is, perhaps, more complicated?
I always find it much more interesting to play those characters—that complication gives you a lot more to play with. What's exciting and interesting about the story are the obstacles that lie between Jamie and Claire and their attempt to be together and to love each other. As a storyteller, you need Jack Randall and Frank Randall. That is the heart of the drama, and so while I'm sure the fans do want them to be together very much, it wouldn't be much of a watch if they got what they wished for.
Outlander airs Sunday nights on Starz at 8 p.m.