Outlander: Tobias Menzies Explains Black Jack's Violent Reaction
25 June, 2016 | Written by Terri Schwartz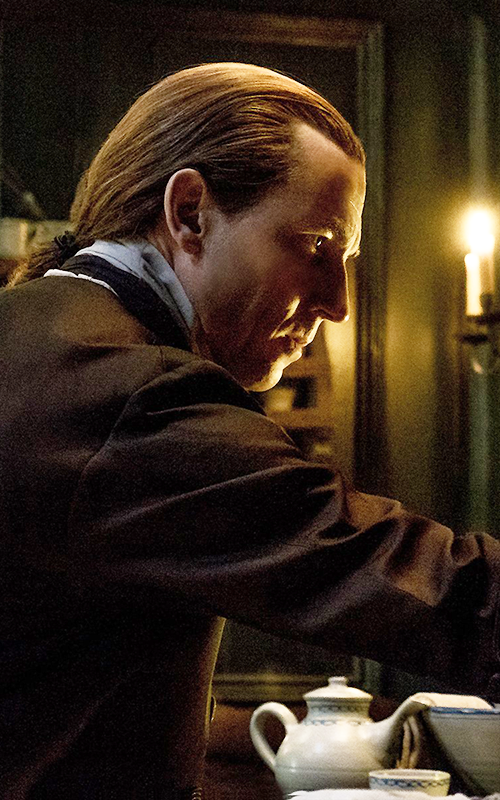 "When [Alex] dies, there is now nothing to stop him."
Outlander fans have never seen Black Jack Randall quite like he was in the second-to-last episode of Season 2.
Viewers of the Starz series have frequently seen the evil side of Jonathan Wolverton Randall, which is why it was so odd earlier in the season to meet his younger and much sweeter brother Alex (Laurence Dobiesz). In "The Hail Mary," the dying Alex asked something his older brother considered unthinkable: marry the woman I love and impregnated, Mary Hawkins, and protect her from both the world and your sadistic impulses.
Ultimately Alex got his way and Black Jack and Mary were wed, but then he very quickly drew his last breath. It's what came after that was so disturbing and interesting: Black Jack took out his sorrow through rage and started beating his dead brother's corpse. It's something that wasn't originally in the script, but actor Tobias Menzies felt like it was the real way his character would react.
"In the script we had the brother dies. We have the death scene of the brother, and [writer Ira Steven Behr] had Jack break down. We were working on it and working on it and filming it, but in a way I felt like everyone's seen that scene, and it felt a little bit clichéd, arguably," said Menzies. "We want to see his emotion, but in a way that's odder, and so we actually ended up shooting a version where the brother dies, and you see that land with Jack and then Jack beats the body of the brother with his fists. He takes out his rage and loss in violence."
At the time of our interview, Menzies wasn't sure that take would even make it into the final cut. What was significant about the moment, he explained, was "you feel the flip back. Right at the end is a very vivid flash of who he is, and who we haven't seen in the episode."
This was the deepest Outlander got into Black Jack's relationship with Alex, something which Menzies called "the one wholesome relationship Jack has in his life." It's because Alex is Randall's closest tie to his softer side that Black Jack is so "unnerved by the idea of losing his brother."
"You see Jack having to deal with on the one side his devotion to his brother and on the other side his own nature, and how to resolve those two," Menzies said. "We definitely see his more tender side, but then I think through when he dies, you see him kill that in him. The clam shuts again. I wanted to draw a line where it obviously has to be true to the person we've met."
He added, "I think it's uncomplicated love there. It's the only good, wholesome, pure relationship he has. The scary thing is when he dies, there is now nothing to stop him."