Outlander Stars, EP Talk Finale's Tough, 'Tricky' Jamie-Randall Scenes
20 May, 2015 | Written by Kimberly Roots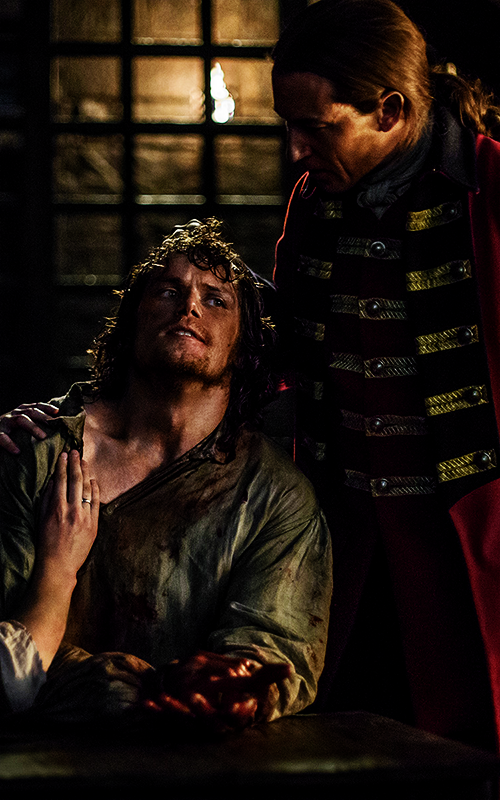 The last time Outlander viewers spied Jamie Fraser, he was bloody, broken and likely hoping death would arrive swiftly, if for no other reason than to stop the tongue bath administered by his depraved nemesis, Black Jack Randall.
No, you didn't read that wrong. The many indignities Fraser suffered throughout the series' most recent episode included getting literally licked by his arch enemy — and life will get far, far worse for the strapping Scot before the season finale is over, star Sam Heughan says.
"Jamie's very much affected by this," the actor tells TVLine. "If you've read the books, you know that."
If you don't know what he means by "this," you likely haven't read Diana Gabaldon's series of novels, on which the series is based and which follow Jamie and his time-traveling wife Claire, yet you likely have a dreadful feeling about how Fraser's extended prison-cell encounter with Randall ends.
Suffice to say: Whatever you're expecting, it's probably worse.
"The most important thing, fundamentally, was to tell that part of the story as truthfully as we possibly could," series creator/executive-producer Ronald D. Moore says. "This is tricky material, very harrowing material, but we wanted to play the truth of what really happened between these two… and to find that line where you're neither being gratuitous, and you're not shying away at the same time — where you're showing what needs to be shown, and you're not afraid of it, but you're not reveling in it."
He adds: "You have to find that tone, and it just took a lot of time."
Heughan and co-star Tobias Menzies spent hours talking through the scenes with each other and director Anna Foerster, Moore says, as they prepped for a rough week or so of shooting.
"The set is usually a pretty light place to work, and this was not that tone. This was a very serious set," the EP recalls. "It was physically dark. The prison cell was not a happy place to be."
Menzies' description of the working environment is a bit more picturesque.
"You have [Randall's] big servant dead in the corner. There's blood on the floor. There's bloody hammers," he says. "It was a challenge within the story, but also a physical challenge. A lot of prosthetics" — like Jamie's scarred back (the object of Black Jack's aforementioned licking) and his mangled hand, which Randall nailed to a table in the previous episode — "and a lot of complicated elements to it."
Though he's proud of how the intricate scenes turned out, Heughan admits that Jamie's roiling emotions were "kind of hard to switch off" at the end of a very long day of work.
"I needed to decompress after a couple of weeks. It was pretty tense," he says, adding that some time outdoors — he climbed seven of Scotland's lower-lying mountains in a day, a pastime referred to as Munro bagging — "was really a nice way to clear the mind."
Before that, though? When Heughan could still feel Randall's mindgames wreaking havoc with Jamie's tortured soul?
"I got drunk," Heughan says, chuckling.