'Outlander' Star Tobias Menzies on Black Jack's Tense Reunion With the Frasers
07 May, 2016 | Written by Sarene Leeds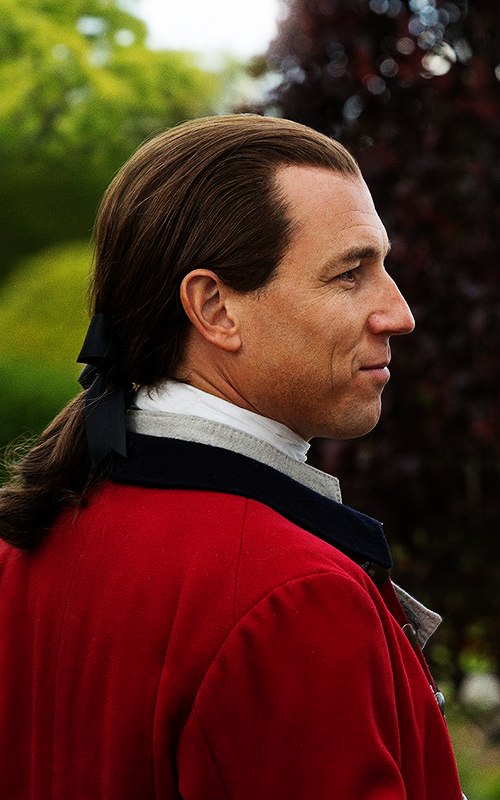 'We're seeing him in situations where he's not in control,' says the actor of the villain's return
Warning: This article contains major spoilers from tonight's episode of "Outlander," "Untimely Resurrection"
When Claire and Jamie Fraser aren't busy plotting to thwart a major royal overthrow on this season of "Outlander," they've been preoccupied with repairing their broken marriage. This has turned out to be a more challenging mission than that whole stopping-the-Jacobite-Rebellion thing, as both have been plagued by the memories of one Captain Jonathan Wolverton "Black Jack" Randall, who raped and tortured Jamie at the end of season 1.
Throughout the first few episodes of season 2, the news that Black Jack hadn't been killed during Jamie's Wentworth Prison rescue (as previously assumed) threatened to destroy Claire and Jamie's relationship forever. But in tonight's episode, the couple were forced to confront their greatest adversary when the British Redcoat resurfaced in the unlikeliest of places – in the gardens at the French palace of Versailles.
Other than in a smattering of dreams/flashbacks, this was the first time viewers saw Black Jack since he was trampled by a herd of cattle in the season 1 finale. True to form, the character's re-emergence was disturbing, for both the Frasers and the audience.
But it would be too easy for "Outlander" to have resurrected its season 1 villain if he didn't play a vital role in the new episodes. In what could be the worst affront to the Fraser marriage yet, it's Claire who must delay a determined Jamie from killing off his tormentor – because doing so would prevent the existence of her 20th-century husband (and Black Jack's descendant), Frank Randall.
Both Frank and Black Jack are portrayed by English actor Tobias Menzies, who sat down with Speakeasy to discuss pulling double-duty on "Outlander" for the second season in a row. While audiences had already seen him as the professorial Frank in the season 2 premiere, his reappearance as Black Jack still came as a surprise in tonight's episode, "Untimely Resurrection."
Menzies, who, in addition to "Outlander," can currently be seen in AMC's limited series "The Night Manager," also confirmed to Speakeasy during our talk that he will be reprising his role of Edmure Tully on "Game of Thrones" this season. Though he remained mum on any plot details, this will be his character's first appearance on the HBO hit series since the infamous Red Wedding episode (Edmure was the doomed groom).
Read on for an edited version of our chat:
Now that Black Jack has been reunited with Jamie and Claire, what are his intentions? He's already succeed in breaking Jamie's will, which we know was a lot more important to him than the actual sexual assault.
I think he's got what he wanted. Initially, in the early drafts of [the meeting in the garden at Versailles], the writers had him again quite cocksure and it felt very similar to the Jack we met in the first season. I wanted to come away from that and have someone a little less confident, so that we saw someone away from his own country, in a foreign land. I feel like in the first season, we met a man who had no sense of his own mortality, he felt invincible. But as a result of Wentworth and the injuries he sustained there, the man you meet in the second season does have a sense of his own mortality. We're seeing him in situations where he's not in control. That feels like the major change.
I think what's nice about that meeting at Versailles is that Jack is curiously excited to see [the Frasers]. He's excited to see Claire, because he perversely, and however sort of twisted that is, feels a profound connection with these two, because they have been through something remarkable. There's that line in the prison where he goes, "We will remember this for the rest of our lives." So he's a character who is always slightly surprising, like the moment when he draws Claire in episode 6 of season 1. That moment of him in the garden, going, "Can you not just step aside and enjoy the sheer perversity and extraordinariness of us meeting in this place in this time?" He always has that unusual take on the present moment, which I think is what's interesting about him as a character.
It had been a while since you got to play Frank. How was it stepping back into that role this season?
It was good, it felt like an interesting place to start the second season. And we hadn't seen that character since episode 8 of season 1, so it felt like there was a lot to play. It was interesting to play that narrative out; Frank and Claire dealing with that fallout from everything that she's been through, and her pregnancy, and so it was rich, fertile ground.
I suppose in some ways it's a little bit seeing the price that's to be paid for everything that's been going on with the time travel and the more romantic aspects of the story. But to come back and see the person who's been paying the price for that feels interesting and crunchy and a grown-up piece of storytelling.
Something different than what we've seen in the past on the show with Frank.
Absolutely, yeah, you see him much more emotional, I suppose, than what we've seen with him before. He's clearly broken and coming out against some of the more esoteric elements of the story. So, yeah, turning to that has its challenges.
Along those lines, Frank said in the season premiere that he's accepted Claire's pregnancy, and her relationship with Jamie. But as a man of science and logic, do you think he really believes she traveled through time?
Yeah, I was never completely convinced about that. I think it's possible that he wonders whether she's in a state of some sort of magical thinking or delusion. But he chooses to take it on its merits at face value, and I think that what's interesting about it is it feels like an antidote between the more romantic love that we see in the rest of the show between Jamie and Claire, and this is a much more flawed, compromised type of love, with the fact that he takes her back and takes on the child despite how much he's been hurt by it all. Feels like an adult kind of love, in a way.
Speaking of the emotional aspects, how much fun was it for you to tear apart the Rev. Wakefield's junk room? It's my understanding that those kinds of scenes can be a great stress-reducer.
Oh, great fun. I was only allowed to do it twice, but yeah, that was a bit of a gift to be able to just physically vent like that.
His anger over realizing that Claire has gotten pregnant by another man is understandable, but how much of that fury is Black Jack's influence throughout the centuries? Or is it all Frank?
That's definitely what we were trying for. I think it's something we dotted throughout, finding flashes of Jack in Frank and also vice versa, having moments which are maybe a bit more Frank in Jack. So, yeah, it's been an enjoyable theme that the writers and I have tried to thread throughout, and this is another little beat of a moment when you see maybe a very different side to Frank, and you go, "Yeah, is that lineage, or….?"
Since you can't talk about "Game of Thrones," what can you spill about your role in the new "Underworld" movie?
I play the main werewolf – again the main adversary in the piece. A lot of action, a lot of fighting, wire work. But there's less talking, which makes it a change for me. I really enjoyed it, and I was working with Anna Foerster, who directed us several times in the first season including the finale (Ed. Note: Foerster directed some of the most graphic episodes of "Outlander," including "Wentworth Prison" and "To Ransom a Man's Soul"), so it was nice to reunite with her and work on a real genre piece.