Outlander Star Tobias Menzies on Black Jack Randall's Sadistic Treatment of Jamie & More
13 May, 2016 | Written by Paulette Cohn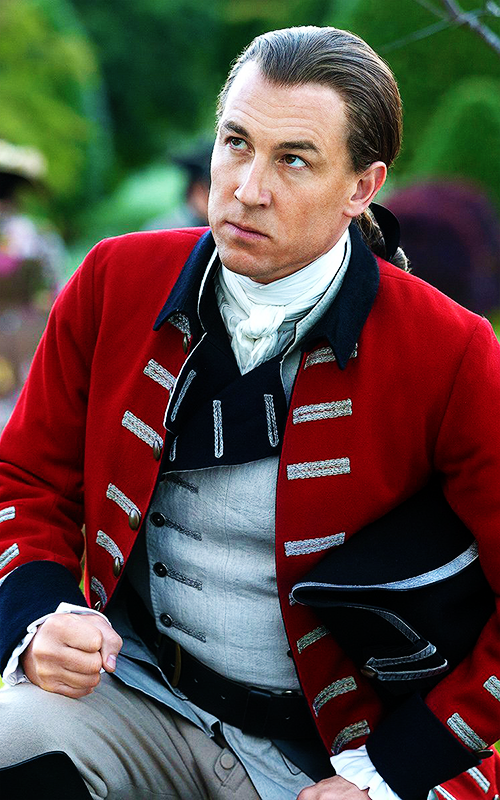 oth Jamie (Sam Heughan) and Claire (Caitriona Balfe) received the shock of their life when Captain Black Jack Randall (Tobias Menzies) sauntered back into their lives at Versailles in last week's episode of Outlander.
His renewed presence threatened to tear apart their just-healed relationship with Jamie desirous of dueling Black Jack to the death, and Claire begging him to wait a year, because if Randall dies before he marries Mary Hawkins (Rosie Day) and gets her pregnant, Frank will not be born in the future. And Claire feels Frank has to exist.
Parade.com spoke to Menzies about the unexpected reunion of the three characters, which was played out before King Louis XV (Lionel Lingelser), so there was a lot of subtext, but the message came across.
"I think Jack feels a very unusual connection to both of them through what they went through in that cell," Menzies tells Parade.com. "I was keen for him to be less confident in the second season, so we see the fallout from the injury he sustained, and the fact that he's out of his comfort zone. He's in another country; in a country that Britain is at war with. He's not in control. So, yeah, he's less robust, a less confident man in the second season."
This week on the Best Laid Schemes episode of Outlander, Jamie and Claire use Claire's medical knowledge to devise a scheme to stop a wine deal which could fill the Prince's war chest. Then, when Claire learns Jamie has gone back on his word, the couple are met with dire consequences that will forever change their lives.
But before tuning in, read the rest of the interview with Menzies, in which he talks about filming the brutal scenes with Jamie in the prison, whether or not he thinks Black Jack is a sadist, his approach to his dual role, his favorite episode from Season 1, and more.
Let's go back to the end of Season 1. Those scenes with Jamie and Black Jack in the prison were so brutal and so hard to watch. What was it like for you to have to film something like that?
Intense. You had to go there a bit, but I feel like we got to a really good place with the material. I was really happy with it in terms of its psychological aspect, that it was an investigation – one man investigating another man, sort of morally, spiritually, psychologically, rather than just physical and sexual violence, so I was keen to make it more epic in a way.
But they were intense days in the studio in that one room, and you could feel it accumulating with the crew; we're all in there together. It's sensitive stuff to do and to get the tone of it right. We were all keen to do it justice and get somewhere that felt genuinely brave in terms of it being uncomfortable to watch, but also having gritty coming from character and having a moral dimension, I suppose.
Do you see Jack as being a sadistic man? Or do you think it's the times and he's just doing what he does because he can?
I definitely approached it as an investigation of sadism. I think that's what he is. It all comes back to [the fact that] he's a product of his experiences and a product of war. I think that's true to both of the characters I play, actually. Frank is a product of the second World War and Jack is a product of the Jacobite Rebellion or Rechabite insurgency, really.
I was less interested in it being a story of his infatuation with Jamie. I think that's in there somewhere, but it's not in a conventional sense. I wasn't interested in it being about homosexuality. Even though somehow he expresses himself in those ways, it wasn't what it was about. It was about sadism and about being interested in people, in the extent of Jamie's resistance, I suppose. His resilience.
You're playing a dual role. Do you take a different approach for each character?
Yes. I think broadly speaking, Frank is a lot closer to me, and Jack is more of a stretch. I didn't overtly go for a different kind of physicality necessarily. I think the clothes that Jack has naturally makes him hold himself differently. Frank is obviously more modern, so there's something more modern about that physicality, but I think the story does a lot for you — what they've been through and who they are is very different.
What was surprising was that Frank is a historian, but when Claire returns, he burns her clothes instead of sending them to his historian friend, who would kill to have them. Why do you think that is?
I think it's symbolic, isn't it? He really needs Claire to leave the past behind. He sent it to the friend, the friend has investigated it. They have that information. I guess it's Frank putting his life before his work.
Do you have a favorite moment from Season 1?
My favorite stuff in Season 1 is the Garrison stuff, where he interrogates Claire, and they have that long chamber piece, where it's just the two of them. The variation let's you see what an unusual person Jack is. I really like what comes up when he starts drawing her, and you're, "Who the hell is this guy?"
Because of things Black Jack has done, when you meet Outlander fans, do they go, "Oh no!" or do they say, "We love Frank."
There's a bit of that. There's some that like Jack and some that hate Jack, and with Frank too, really. I'm always surprised that people have such strong dislike for Frank sometimes, but I do buzz in and out of Twitter. That's, obviously, the main forum for which you get that, but it's all coming from a good place. It's from passion for the show and the story.
Outlander airs Saturday at 9 p.m. ET/PT on STARZ.