Outlander: An Exclusive Behind-the-Scenes Look at Tobias Menzies' Emotional Goodbye
25 September, 2017 | Written by Joanna Robinson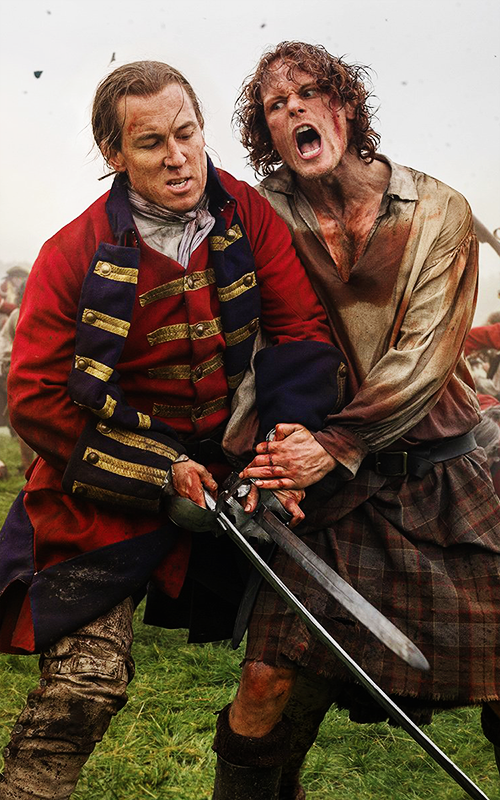 The show's most notorious villain gives a tender farewell.
For three years now, a pair of Randall men played by Tobias Menzies have both menaced Outlander heroes Claire and Jamie Fraser (in the past) and served as a point of hope and steadfast love (in the present). It's been a complicated dual role for Menzies—but, having hung up Black Jack Randall's wig in the Season 3 premiere and Frank Randall's fedora by Episode 3, the actor's tenure on the series is now officially over. What does the show even look like without Frank and Black Jack driving a wedge between the Frasers?
In the behind-the-scenes video above, Menzies comes to terms with his departure from the show. "It's mixed emotions," he says with the same heavy sigh most actors give when they leave a show. "I will miss everyone greatly."
Without tooting his own horn, Menzies gives a nod to all the nuance and shades of grey he brought to a character like Black Jack Randall. Given the rape and torture he visits on our heroes, Black Jack could have easily been a sneering, black-and-white villain. But as Menzies observes, "It always gives you lots to work with when there are contradictions within a person." In the footage here, we see Menzies blocking out his final fight with Sam Heughan's Jamie—including the key, improvised moment where Jack reaches out, piteously, as he falls.
Menzies didn't get a big dying scene for Claire's long-suffering husband, Frank; he died off-screen in a car crash. Instead, we had to watch the slow, tormented death of their marriage over the span of several episodes. Here, too, Menzies and the writers brought added shades of grey. "He's the antidote to everything that Jack is," Menzies says with enormous sympathy for the man who raised Jamie's child. "He's a really great, complex character that Diana [Gabaldon] has given us in the books. He's the less flash of the two, but I really feel the writers did a good job in fleshing him out from the books. It's been a good ride."
There will always be menacing Scots, imperious French, and (spoiler alert) brash Americans to ensure that Claire and Jamie don't get to live out the rest of their days in peace. But none will ever hold a candle to the Randalls—nor to Menzies, who disappeared so completely into two complex men.