Outlander: 10 Jonathan Randall Mannerisms From The Book Tobias Menzies Nails
10 March, 2020 | Written by Medha Karn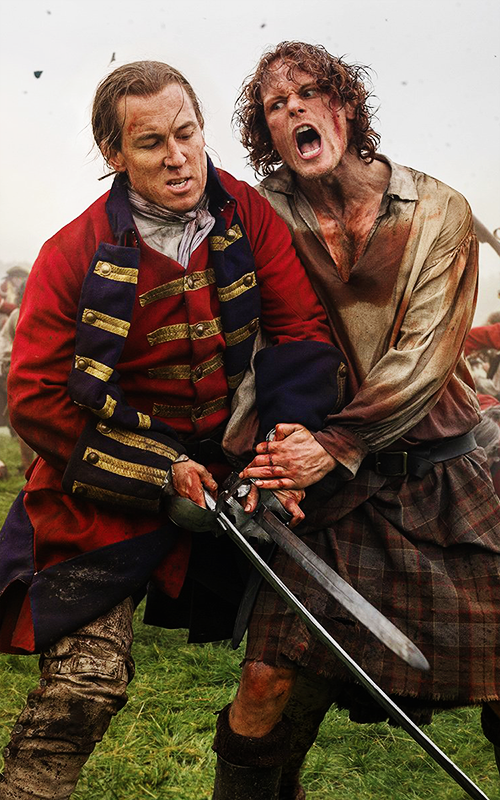 Jonathan Randall is one of the main characters in the Outlander book and show, and some of the character's mannerisms Tobias Menzies nailed.
Outlander is an epic show with tons of memorable characters. Some fans root for, and some are hated. Jonathan Randall is the most unique out of all. He is a character you hate, but you don't want to not see more of him.
Even if he is a brutal, arrogant man, he has a charm about him. Love him or hate him, you can not ignore Black Jack. Randall is actually the most interesting and explore-able villain of this universe. Today we are going to share with you ten of his mannerisms that the actor Tobias Menzies totally nailed.
10 Stone Cold Eyes
Jonathan Randall from the books has stone-cold eyes. As handsome and successful he looks from the outside, he is as evil and noir from the insides. He frequently indulges in dark practices like ruthless torture, inflicting physical, emotional, and mental pains on his victims and sexually abusing all sorts of beings.
The actor from the show has literally hit the nail right on the head, on the screens. Even when he smiles or laughs (a couple times a year perhaps), his smile does not reach his eyes. His stare is equally chilling.
9 The Smirk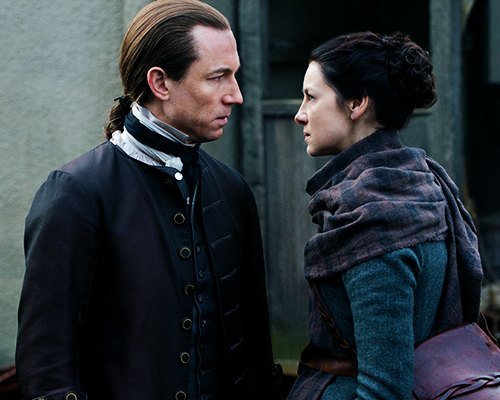 Randall is handsome no doubt, but, he has a look that will put any woman off. He always has this mocking smirk on his face. Regardless of who he is talking to, be it a man, a woman, or his seniors, he doesn't think highly or even equally of anyone.
This is probably because he does not have any single admirer or follower, even in his troops. He does not have any partner or a close bond with anyone except his brother, maybe.
8 Obsessive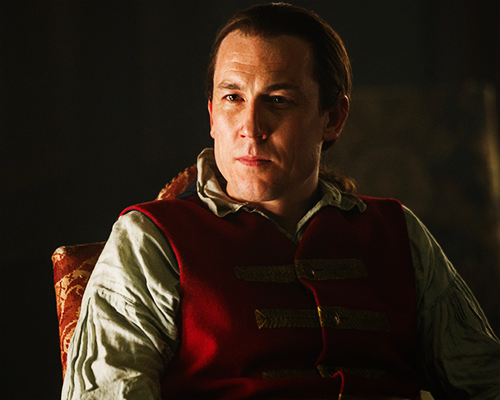 Captain Jonathan Randall and his men were wandering about Lallybroch forcing everyone to give them food and supplies for their garrison when they ran into Jamie and a group of local men. They refused to accommodate the Redcoats.
This was the first meeting of Randall with Jamie. Little did he know that this would be the first and last man of his life who would not give in. Both of them share a complex bond where Jamie of course, hates him to the core and Randall is weirdly obsessed with his brevity, strength, and charm. Tobias has successfully reflected this extremely raw emotion on numerous occasions!
7 Sadism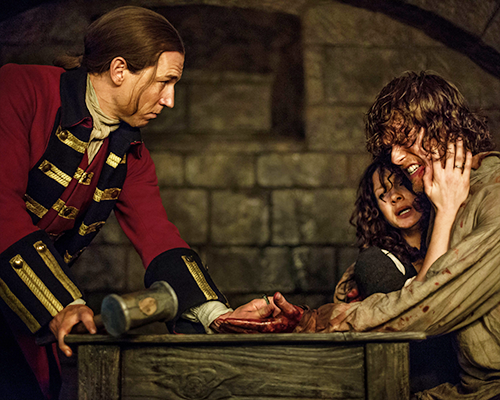 In Diana Gabaldon's words, Jonathan Randall is a sadistic bisexual pervert. He seeks pleasure in the screams of men and women. He didn't even spare children. In Paris, after Randall was arrested for Mary Hawkins' alleged molestation case reported by Claire, Jamie finds him in a brothel. Randall was picking up a young boy Fergus.
He loves torturing people. In another event, when he finds Jamie is not ready to acquiesce to his lustful desires towards Jenny (Jamie's sister), he finds a chance to torment him, and this prospect seems equally pleasurable to him.
6 Chilling Menace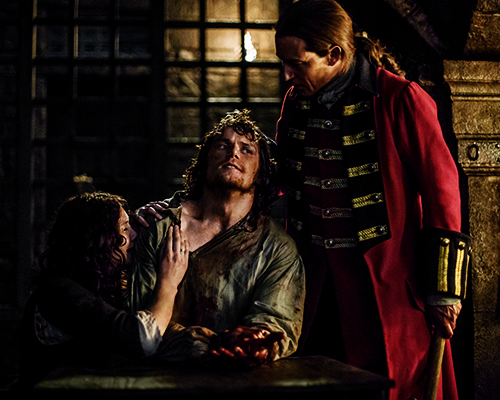 Jonathan Randall is a dark evil character. Even when he says nothing, his eyes say a lot. They have a distinct characteristic in them. It seems like they ooze fire, more so when he finds a victim of his atrocities.
His eyes light up with satanic glare when he finds chances to vent his frustrations out onto people and surroundings. This tiny but important detail is something that breathes life into the portrayal of Black Jack by Tobias Menzies.
5 That Intimate Affair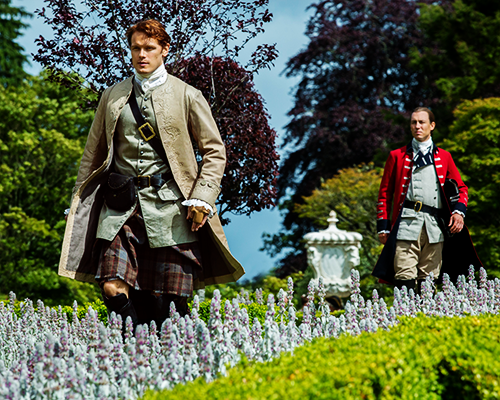 The jail moments between Jamie and Black Jack were psychologically draining no doubt, but they let Jonathan Randall (infamously called Black Jack) open up with the former. He was not just torturing Jamie, this time his actions were transactional.
He wanted Jamie to ask for it and feel every second of the pleasure, amidst all the pain he and his accomplice had given him. He said there needed to be an intimacy about the transaction. That's why this becomes more daunting to play the man for those scenes and Tobias did an incredible job with that.
4 Fear Propagation
Some men lead by example, some by spreading love! Jonathan Randall works by propagating fear. His best comes out when everyone around is afraid of him. Since Jamie did not give in or show fear when he flogged him or beat him, Randall could never get over him until the dungeons of Wentworth Prison happened. In a similar example, when he was trying to rape Jenny, she started laughing, and consequently, Randall could not ready himself to do the act. The same thing had happened with Claire too.
He dominates when people are afraid and his body language exudes that. Tobias nailed this hardwired demeanor of Randall so much so that even screens reflected fear when he was on them.
3 Fallen Man
Black Jack has a brother called Alex who he is really fond of. From his time in Paris, Alex gets infected with a number of diseases. These diseases are apparently not curable, and he is dying from them. Mary Hawkins is pregnant with Alex's child, so Alex requests Jonathan Randall marry her and ensure a future for his significant other and their kid.
It is quite apparent how Randall is broken by this news. He doesn't give up. Instead, the mighty Jonathan Black Jack Randall begs Claire to tend to Alex and heal him. He actually looks like the fallen man from the books.
2 The Encounter In Paris
In 1744, Claire and Jamie are in France. At Duke of Sandringham's residence, when Claire is going inside, she suddenly runs into a disheveled Jonathan Randall, who is shocked to see her in Paris.
Both of them were under the impression that the other had died in the last winter. Randall is not only shocked, he's baffled when he sees Jamie too. Black Jack and Jamie both get into the mood of a duel when Claire intervenes and Randall is arrested for a case of molestation.
1 The Expressions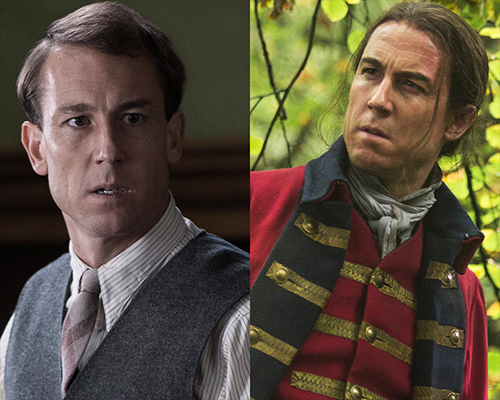 When Claire first fell through the cleft in the stones and unintentionally traveled to the past, she saw a few highlanders running as if someone was shooting a film. She hid and ran into a long-haired perspiring lavender-scented replica of Frank instead. But of course, he was not Frank.
He was their infamous five times great great grandfather Black Jack, Jonathan Randall. Randall looks at her from head to toe in lust, and the series actor totally rocked the expressions in that scene and numerous others.