Mutiny, cannibalism, monsters... Tobias Menzies and Jared Harris on why new drama The Terror is a far cry from The Crown
19 April, 2018 | Written by Gerard Gilbert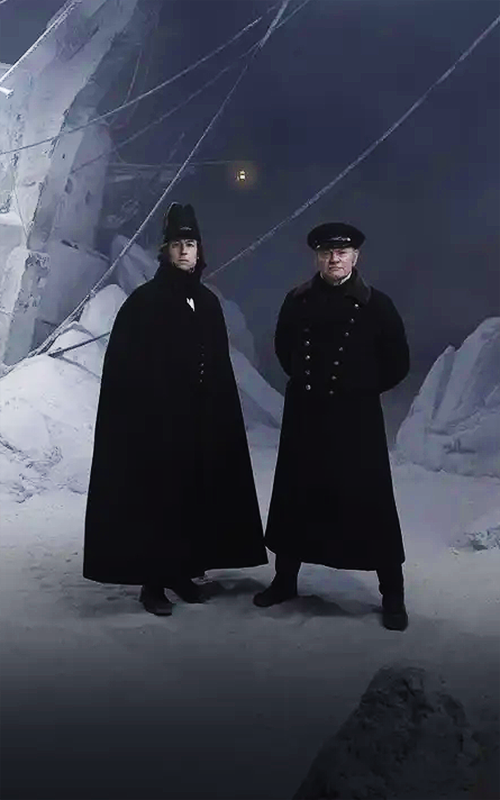 Jared Harris played George VI in 'The Crown' and Tobias Menzies is about to take over as Prince Philip. First, however, they both have to face 'The Terror'
Earlier this month, and while spring was still biding its time, I ventured out to the Royal Geographical Society in London to attend a launch party for AMC's big new drama The Terror – the screening taking place optimistically in a marquee. Guests were supplied with blankets, should they require them.
The conditions were entirely apt for a ten-part TV series based on Dan Simmons's 2007 fictionalized account of Captain Sir John Franklin's ill-fated expedition of HMS Erebus and HMS Terror to the Arctic in 1845 to locate the Northwest Passage: a short cut between Europe and China.
In Simmons's novel, while Franklin and his crew are plagued by starvation and illness after the ship becomes stuck in the ice and forced to contend with mutiny and cannibalism, they are also stalked by a monster.
Ciaran Hinds plays Franklin, the superstar explorer of his age, but the drama belongs equally to his co-stars – Jared Harris as Francis Crozier, the Anglo-Irish skipper of the Terror, and Tobias Menzies as his great rival (and Franklin's deputy on the Erebus), James Fitzjames.
"These were the top jobs of the time", says Harris, the 56-year-old British actor who really first came to prominence playing Lane Pryce in Mad Men. "They were the heroes of their age. These were huge opportunities… you were paid huge amounts of money, and if [they] made it back, these people would sell their stories and write books and do speaking tours and get set up for life."
Crozier's tragedy is that, despite his record as a polar explorer, as an Irishman, he's deemed an outsider by the naval establishment.
"What he realises is that he's going to be written out of this story," says Harris. "And that's not untrue to the history of it. The Admiralty didn't want [finding the Northwest Passage] to be anything other than an English discovery and an English achievement. There were other more experienced polar crews but as they were Scottish, Irish and Welsh they were largely left behind."
Filmed almost entirely on a Budapest soundstage, the Ridley Scott-produced drama is a miracle of CGI work and production design. However, it is David Kajganich and Soo Hugh's excellent script – faithful to the period but also as tight as a ship's rivet – that really makes The Terror.
"Immediately I recognised that I was reading master storytellers," says Harris. "I didn't know anything about the Franklin expedition and it's pretty rare to get a script that doesn't feel familiar; it's not a reboot or a prequel or a sequel. This is a completely original story."
In fact, it feels like something the BBC maybe ought to have tackled – rather than, say, their appalling prosaic take on the Trojan Wars, Troy: Fall of a City, or yet another adaptation of Wilkie Collins' The Woman in White. But then Britain has never embraced the story of Franklin, points out Tobias Menzies.
"There was a lot of embarrassment and shame for the British navy about such a public failure on their part – and we don't hear about failures," he says. "Interestingly enough, it's a story that's much better known in Canada – all of these events take place in Canadian territories and it's taught in schools there. It's exciting to bring this story back home, to a certain extent."
Menzies, best known for his Golden Globe-nominated dual role as Frank Randall and "Black Jack" Randall in the historical romance Outlander, and who is taking over from Matt Smith as the maturing Prince Philip in the next season of Netflix's The Crown, adds that the expedition was further tainted by the 'c word'.
"We're talking about cannibalism," he says. "I think at that point it started getting swept under the carpet – we don't really want to talk about it because it ends in a very un-English way."
Despite several expeditions, no sign was found of HMS Terror or HMS Erebus – until recently. Both the wrecks have discovered in the last five years, and it would seem that everyone on board perished from causes ranging from scurvy and tuberculosis to malnutrition and lead poisoning from their food tins. That the crew resorted to cannibalism has long been rumoured – but also contested.
"Even Charles Dickens said it strained credulity that an Englishman could do such a thing," adds Harris. "They didn't believe that any of this stuff could happen."
Menzies and Harris have both worked their way to the top the long way around. For the 44-year-old, London-born and Rada-trained Menzies this has meant a long stint on Casualty before increasing his profile with the HBO/BBC toga saga Rome, in which he played Julius Caesar's friend and later co-assassin, Brutus.
Then came that springboard for many a British thespian, Game of Thrones. He played Edmure Tully, heir to house Tully of Riverrun and the unlucky groom at the Red Wedding in season three, who is still being held captive by the Lannisters. Such is the fiercely guarded secrecy of the HBO fantasy, that Menzies won't say whether Edmure will ever return.
But it is the historical fantasy adventure Outlander that has made his name – more in America than in Britain. "I can still wander around Camden without too much hassle," says Menzies. "Whereas they're much more vocal whenever I go to the US. It's a particularly loyal fan base."
The Crown will only increase his visibility on both sides of the Atlantic. Naturally he is equally silent about his new role as Prince Philip to Olivia Colman's Elizabeth II in the new season, which begins shooting this summer – and which is understood to be looking at the royal family in the 1970s.
But while Menzies prepares to join the cast, Harris has already completed his stint as King George VI, a performance that in many eyes eclipsed Colin Firth's portrayal of the Queen's father in The King's Speech.
Harris' own father was the legendary, hell-raising Irish cinema actor Richard Harris; his mother, Welsh actress and socialite Elizabeth Rees-Williams. They divorced when Jared, the middle of three brothers, was nine years old – by which time his father had become an international movie star by way of This Sporting Life, Camelot and Cromwell.
"Dad was never a person who'd stay at home," says Harris. "It was a big thing when he was home – he was a circus." The difference with his mother's second husband, Rex Harrison, was stark.
"Dad loved kids; Rex didn't really like children. He enjoyed conversations, not the mundane things children want to talk about. I didn't really know him that well." The marriage to Harrison lasted four years; his mother's current husband, since 2003, is former disgraced MP turned prison reformer Jonathan Aitken.
After a private Catholic boarding education in England, Harris went to university in North Carolina. "I really wanted to get out of England," he says. "I thought if I went somewhere where I didn't know anybody and they didn't know me I could start all over again."
Unlike Menzies, who has acted since school, Harris was only lured into acting by the offer of free beer during freshers' week at Duke University if he auditioned for a student play. "I had been curious [about acting] before," he says. "But I had never done it. I remember thinking, 'I'll audition just once and if it doesn't work out I'll never think about it ever again.'"
The rest is history – or at least a busy and varied career in film and television. Home is Los Angeles with wife Allegra Riggio, a lighting designer he met at a mutual friend's comedy night.
Harris was previously married to British actress Emilia Fox – having met in 2003 while performing together in an infamous West End flop production of Les Liaisons Dangereuses, their union seen at the time as a coming together of two great acting dynasties. They divorced after Fox had an affair with actor Jeremey Gilley.
"When it started falling apart I experienced the worst despair and anguish that I have experienced since the death of my father," he says. Richard Harris passed away in hospital in 2002.
Jared's two brothers, actor Jamie Harris and director Damian Harris, now both live in LA as well, the siblings meeting up to discuss the fates of their various English football teams (after being introduced to George Best as a child, Jared supports Manchester United).
"I love this country," he says of his adopted homeland, America. "It's been good to me and I love the whole idea of coming here and making your fortune and reinventing who you are."

'The Terror' begins on AMC, 24 April