Game of Thrones: 10 Best Tobias Menzies Roles Other Than Edmure Tully (& Their IMDB Score)
21 June, 2020 | Written by Jessie Atkin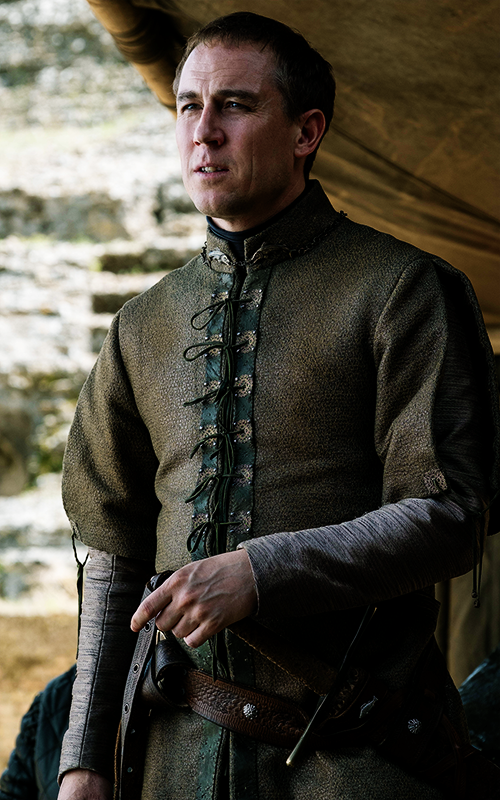 Tobias Menzies was introduced to many as Edmure Tully in Game of Thrones, but the actor had a myriad of other amazing roles outside of the hit show.
Tobias Menzies played the cowardly Lord of the Riverlands, and brother to the late great Lady Stark, Catelyn. He is best known for surrendering to the Lannister army and then trying to get himself crowned king of the Seven Kingdoms before being pointedly told to "sit down" by his much more capable niece, Sansa.
Yet Tobias has been a working actor since 1998 and it might come as a surprise some of the other projects he's been spotted in. Here we look at some of his best roles (and their ratings on IMDb) where Menzies got to show off a bit more than his poor shooting skills and unfortunate attempts at political maneuvering.
10 Atonement – 7.8
Menzies actually made an appearance in the well-reviewed Atonement that set Saoirse Ronan on the world. The film, based on a book of the same title, followed the personal drama, as well as that of World War II, that engulfed a family due to the lies told by the youngest sister, and future author, about a crime that her elder sister and that elder sister's love interest, had nothing to do with.
Menzies appeared in the film as a naval officer. Future Game of Thrones star, Alfie Allen also appeared in the film as Danny Hardman.
9 This Way Up – 7.8
This Way Up is a British comedy series that premiered in 2019. Of its first season, six episodes in length, Menzies appeared in four of them. The show follows the life of Aine, a young woman who is trying to put her life back together after a nervous breakdown.
Menzies appears in the series as Richard, the father of a twelve-year-old French student that Aine is teaching. Richard and his son's relationship is very new as the boy just moved to England to live with him
8 Casino Royale – 8
One of the most well-reviewed James Bond films of all time Casino Royale was Daniel Craig's first outing as James Bond and saw the greatest 007 trying to bankrupt Le Chiffre and the terrorist organizations he finance by taking part in a high stakes poker game.
Menzies appeared in the 2006 film as Villiers, secretary to Judi Dench's M, at MI6 headquarters. A small yet important role, it's quite the film to be associated with.
7 Star Wars: Rebels – 8
While he doesn't appear on screen, Menzies did voice Tiber Saxon, a member of Clan Saxon on Mandalore and director of the Imperial Forces during the Mandalorian Civil War in Star Wars: Rebels.
The character's role may become even more important as Mandalorian history is explored in greater detail in future seasons of the live-action series, The Mandalorian. Tiber was not a good guy and does eventually perish for his actions, but he's an important part of the history of bothering the Rebels characters and the Mandalorians as well.
6 The Terror – 8
In the first season of the AMC show The Terror, Menzies starred as James Fitzjames, British Royal Navy Officer, first a commander on Sir John's ship, the Erebus, and then the Captain of Erebus after Sir John's death, on the failed, and lost, expedition to the arctic in 1845.
The expedition was looking for the Northwest Passage, but neither found it nor returned to England alive. Stuck in the artic as the ocean freezes around them the entire crew eventually dies as they are hunted by an unseen but deadly spirit. Fellow Game of Thrones actor, Ciaran Hinds (Mance Rayder) also starred as Sir John himself.
5 The Night Manager – 8.1
The 2016 series, The Night Manager, saw Menzies portray Geoffrey Dromgoole, alongside stars Hugh Laurie and Tom Hiddleston. The series follows the night manager (Tom Hiddleston) of a Cairo hotel as he is recruited to infiltrate an arms dealer's inner circle.
Menzies would work alongside his Crown costar, Olivia Coleman, as Geoffrey Dromgoole. The six-part series premiered on the BBC in 2016. It was nominated for twelve Emmy Awards and four Golden Globes.
4 Catastrophe – 8.2
Catastrophe follows the lives of American Rob and Irish Sharon after the pair hook up for a week while they are both in London. The encounter leaves Sharon pregnant.
The Amazon series premiered in 2015 and featured the late great, Carrie Fisher, as Rob's mother. Menzies, for his part, played Dr. Harries, who appeared at least once in all four seasons of the comedy from 2015 to 2019.
3 Outlander – 8.4
Books turned television shows seem to lead to great success for Menzies. Like Game of Thrones, Outlander (on Starz, rather than HBO) has also been a smash hit series. The show follows Claire Randall, a former World War II nurse who finds herself transported backward in time to 1743 Scotland, where she gets involved with the Jacobite risings.
Menzies has appeared as Frank Randall / Jack Randall, in seasons one through four. Frank is Claire husband in the 20th century, and Jack Randall is his ancestor during the Jacobite Rebellion. Menzies was nominated for a Golden Globe for his role in 2016.
2 Rome – 8.7
Rome was an HBO historical drama that ran from 2005 to 2007. It follows the transition of Rome from a republic to an empire, and follows closely Julius Caesar and his family, along with their allies and enemies.
Menzies starred as Brutus, the Roman senator and the most well known of the assassins who stabbed Julius Caesar. He appeared in seventeen of the show's twenty-two episodes. The show was nominated for fifteen Emmy awards over its two seasons, as well as two Golden Globes.
1 The Crown – 8.7
Menzies took over the role of Prince Phillip from Matt Smith in the third season of The Crown, where he stars alongside Olivia Colman, as Queen Elizabeth.
His performance in the third episode of the season "Aberfan" about a catastrophic coal collapse that buried a school and the children inside, is of particular note, along with his interaction with Neil Armstrong, Buzz Aldrin, and Michael Collins, in the seventh episode, "Moondust". He is set to return as Prince Phillip for the show's fourth season as well.