Actor Tobias Menzies on the 'Outlander' Death We All Knew Was Coming
25 September, 2017 | Written by Jennifer Vineyard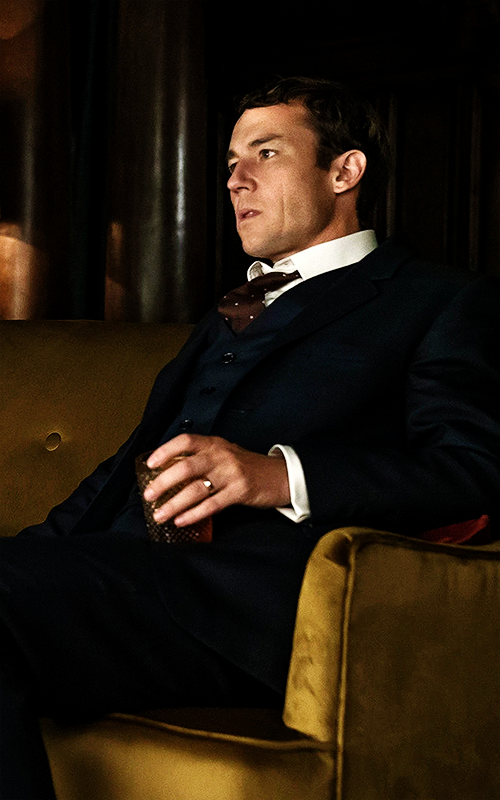 This article contains spoilers for "Outlander" through Season 3, Episode 3.
No "Outlander" fan should be too shocked that Frank Randall finally met his end in Sunday's episode, considering that it was revealed last season (after a jump forward in time) that Claire was already his widow.
But as this season rolled back the clock on the couple's marriage, it gave us three episodes of their life in Boston, as they tried to navigate Claire's pregnancy, becoming parents, being intimate and ultimately giving up on anything other than parenting together. They danced around the idea of divorce, but before they could go through with it, Frank's car accident settled the argument. The actor Tobias Menzies, who has portrayed both Frank and Black Jack Randall, shared his post-mortem on the Randalls' open marriage in a recent phone interview. The following are edited excerpts from that conversation.
We've known for a while that Frank would die.
Yeah, I know. [Laughs] Maybe the more interesting thing is how it happens, versus what happens. And how their marriage gradually unravels. We talked a lot about the play "Who's Afraid of Virginia Woolf?," because it's about two people tearing each other apart. We had a lot to pack in for these first three episodes, because the story spans about 20 years, as Brianna is born and grows up, and the marriage goes through all these different phases. We have hope with Brianna's arrival, and then when that doesn't bring a new beginning for them, we go through the rage, disappointment, hurt and anger and then settle into something more resigned.
As we learn, they actually attempt an open marriage, which is pretty rare for that time period. But it's also a departure from the books by Diana Gabaldon, in which we're lead to believe that Frank was perhaps cheating on Claire.
I think Diana Gabaldon's central premise, in a way, is that for some people, there is a "one," if you like, and Claire and Jamie are that for each other, which makes Frank one of the tragedies of this story. That ultimately makes the sacrifices that he's asked to make quite untenable. And that's one of the main changes we made — to flesh Frank out, to make Frank more three-dimensional.
Jamie and Claire, it's not just a romance without consequence. You see the price of their love, the impact on the people around them, which makes it richer and more moving. And it turns Claire and Frank's love into a love with a lot of scar tissue. There's a sort of honor in that love as well, since they keep trying, and they do raise a child. But it costs them a lot, because of Claire's refusal to admit the underlying issue, which is almost more damaging than the fact that she closes her eyes during sex. Frank can only intuit, quite correctly, that while she was able to go through the motions of sexual intimacy, there was no emotional intimacy. At his core, that's what he wants, and it's the hardest thing for Claire to give him. Maybe if Frank was thicker-skinned, maybe if he cared less, they might have lasted longer or done better. The idea of an open marriage, like what we've shown, has real difficulties when you don't have a kind of core trust. It's a lonely arrangement to have with someone.
You once wrote on Twitter that your ideas helped shape Black Jack Randall: "I'm afraid all that kinda kinki-ness tends to be my idea." What ideas did you share to help shape both of your characters?
One of the nice things about being on the show since the beginning is that you can help build up a rapport with the writers, and a lot of this material comes out through conversation. There was a writer on the show, Ira Behr, who wrote quite a lot of the Black Jack stuff, and he brought a fair amount of twisted-ness to it. A fair amount of sexual perversity. I remember him wanting to be very rigorous about the why — why Jack was doing what he was doing. The psychology. His agenda.
So for me, it was about sadism, and making him an explorer of the human condition. His obsession with Jamie was about wanting to dismantle this person, and realizing that Claire was the lock he had to pick for Jamie. That led to the stuff toward the end of Season 1, at Wentworth Prison, impersonating Claire, whispering Claire's name. It was about making it not just "I want to rape Jamie," but more complicated. I didn't want him to be a Central Casting baddie. By trying to be as clear and particular about your choices, it can result in unusual decisions, and I think that's a good example of that, because it's a very weird moment. You're not quite sure what's going on, but it has an emotional truth about it.
And with Frank, it was often about not making him too fussy, not too academic. Yes, he's an intellectual, but he's handsome and passionate, and he's definitely a match for Claire. That relationship has to have heat in it as well. If Frank is more of a genuine proposition, it makes Claire's decision to be with Jamie even meatier. It's a good contrast. And this season, the scene where Frank touches Claire's pregnant belly and she sort of flinches, and then they have the argument with the throwing of the ashtray, that definitely came out of collaboration with the writers and directors. We had plenty of conversation about that dance, and it was more than we could have come up with separately.
What happened during the shooting of that scene, by the way? I heard you were injured.
I had a bit of an accident, yeah! We were shooting over my shoulder, shooting Caitriona Balfe, and it was the moment for when we were getting the shot of her throwing the ashtray. Cat had said: "I'm not very good at this. I won't be an accurate shot, so people might want to get out of the way." So they mounted a protective screen in front of the camera to ensure the cameraman would not be hit when the ashtray came across. I was standing just in front of the camera, and as I turned away from the ashtray, the camera was closer than I realized, and I caught the corner, and the edge cut into my scalp. There was a lot of blood and much consternation. I had to have about eight stitches in my hairline. Six weeks later, it was healed up enough that with a bit of hair and makeup, you wouldn't notice it, so we were able to finish the scene and pick up the last two shots. If the accident had happened at the beginning of the shoot, it could have been more difficult! All's well that ends well.
It's a bit ironic that you would get hurt during a Frank scene versus a Black Jack scene …
I know. [Laughs] But you're more on your toes when there are swords around. It's actually much more safe!